Fitbit in-store experience redesign is based on comprehensive market research. Packaging redesign is guided by Kevin Brainard in his course Design and Branding in MFA Design, School of Visual Arts. 
In retail stores like Best Buy or Target, Fitbit's products are always locked in display case. Assistants usually won't open lock for customers until they decide to buy it, nor there are models to interact with or try on. Customers get limited information from the counter.
To get a deeper insight of this problem, I conducted market research in Fitbit retail stores in NYC.

When there is no assistant nearby, customers are very patient waiting for assistants. While waiting, they watch the whole commercial video, check information in detail for a long time, even when products are locked in display case.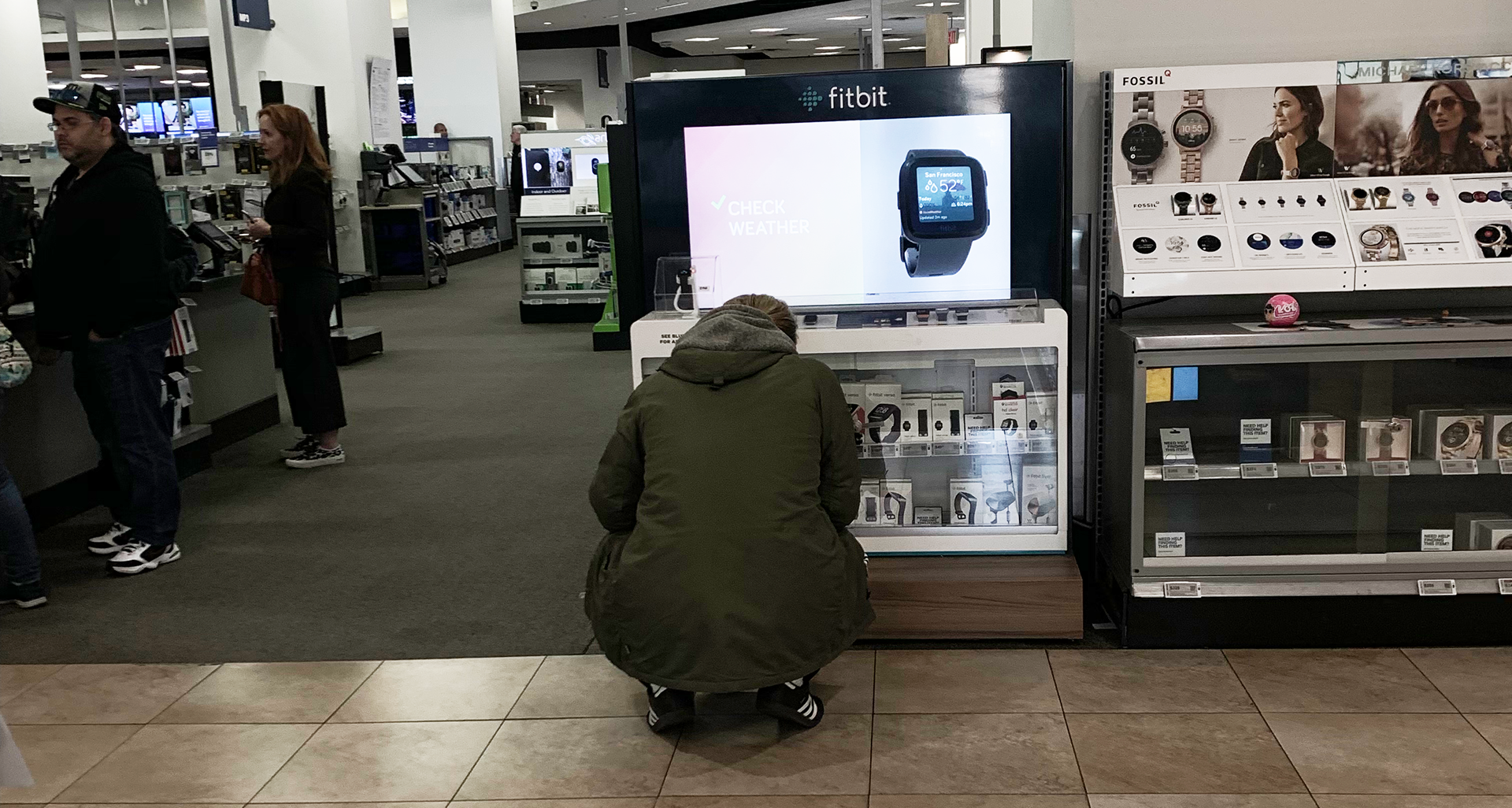 • New 
customers get little information from display case

• 3 out of 4 interviewed new customers did research before they came to retail stores. They check the design, color band and size, and buy it quickly.

•
4 out of 6 interviewed repeat customers went to stores to buy accessories

•
All interviewed repeat customers care about their health and fitness. There are marathon runner, swimmer, one who care about his feet fitness, one who care about her heart rate, one who care about her sleeping quality and one who just recovered from a surgery.
• Concerning about products' safety, a
ssistants won't open locks for customers to try models until they buy it

• 4 out of 5 interviewed assistants think there's enough information to feed customers, while all the interviewed new customers said they wish to get more information on the counter or product packaging
• Assistants take care of other brands' products too
•
Fitbit had been No.1 in market share before the third quarter of 2017, now No.3, following Apple(No.1) and Xiaomi(No.2).
• Fitbit is one of the best seller in every retail store I visited.
• Apple's stores are all about interaction with models. Samsung and Garmin also have several models to interact with on their counters. While there is none or only 1 model to play with in Fitbit's display case.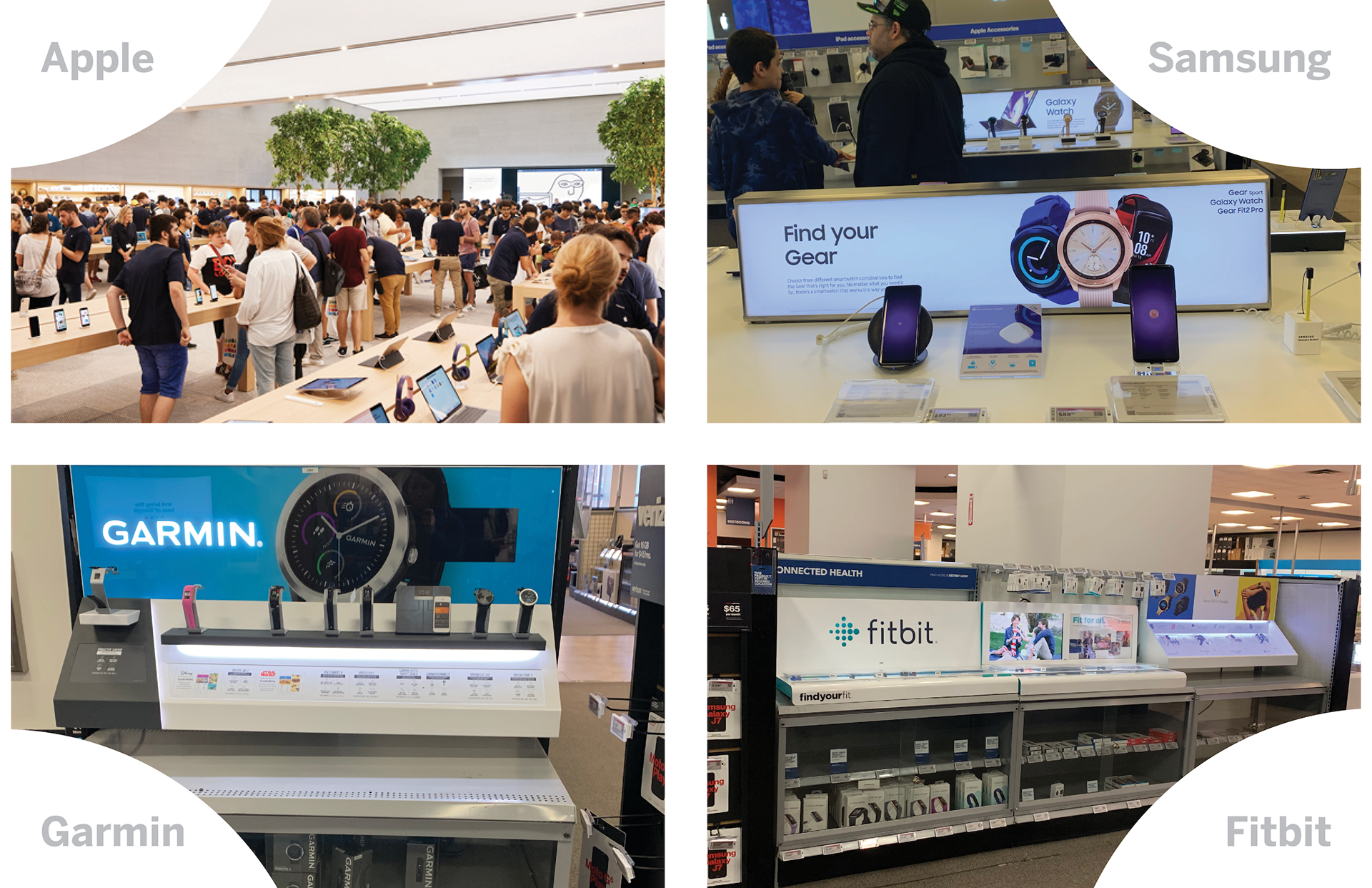 • Fitbit's display cases are not consistent, some of them have plenty information while others don't.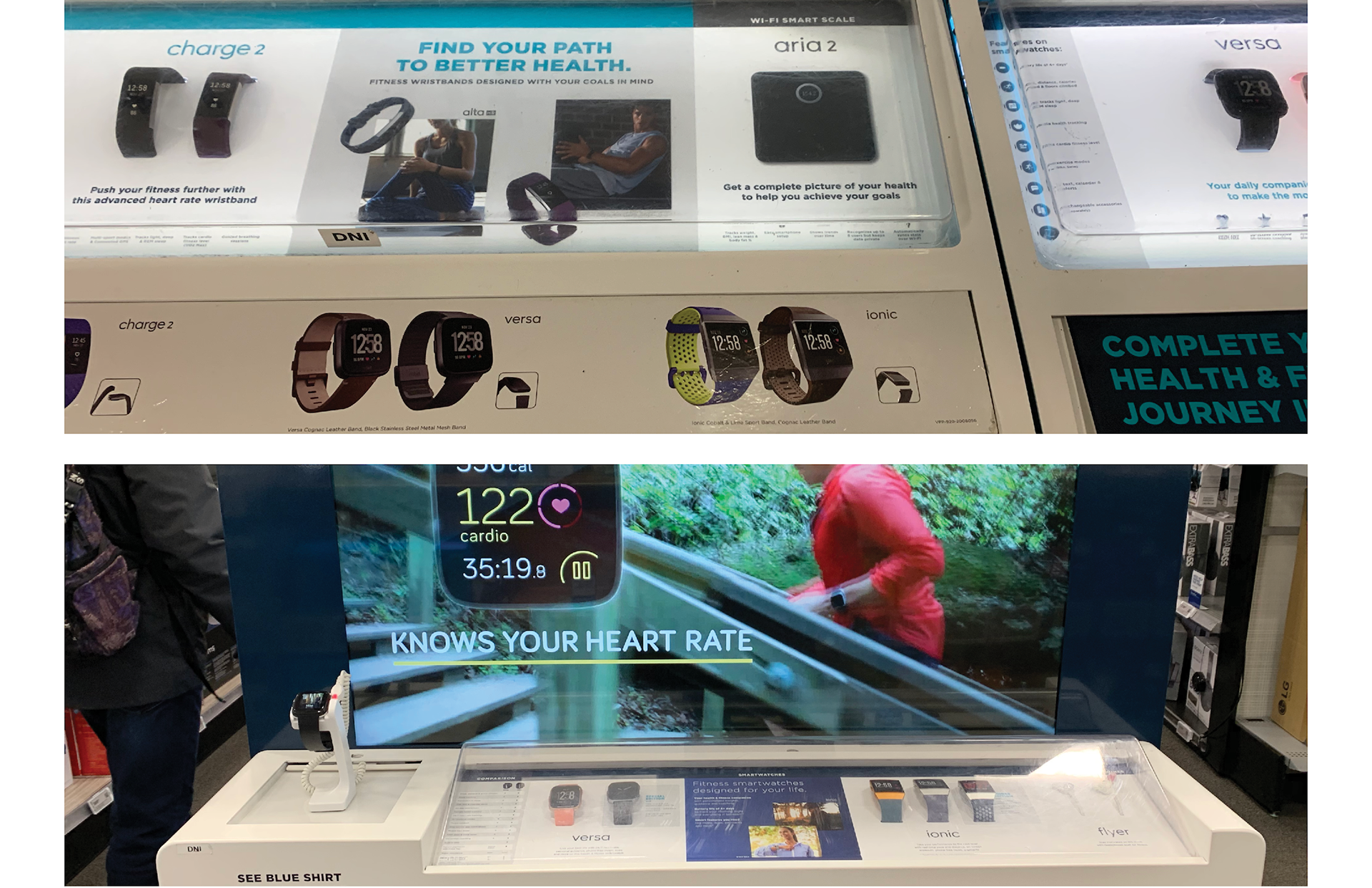 • Fitbit, together with its competitors in retail stores, have similar packaging.

Solutions
Add interaction models and information panel, redesign the packaging
Given the fact that assistants may not help customers all the time, utilize all the space in display cases to convey information is important and efficient:
• Add plenty models for customers to interact with
• Redesign information for new customers and returned customers respectively
• Distinguish packaging from competitors, even when products are locked in counter, they can still sell by the front
Packaging Redesign
​​​​​​​
This package achieves 3 things:
• Customers get its highlighted features at first glance, even when products are locked in counter
• Green color make customers feel it's good for their health needs
• Tell Fitbit's own story of tracking health every day, distinguish Fitbit from competitors