I proposed retail experience strategies and redesigned a package for Fitbit based on market research aiming to improve its competitive position in industry.
This project started from my class assignment of packaging redesigning. I chose Fitbit and conducted market research, which leads to a retail experience strategy and a redesigned packaging for Fitbit. The redesigned packaging prototype received positive feedback from Fitbit retail store assistants and customers.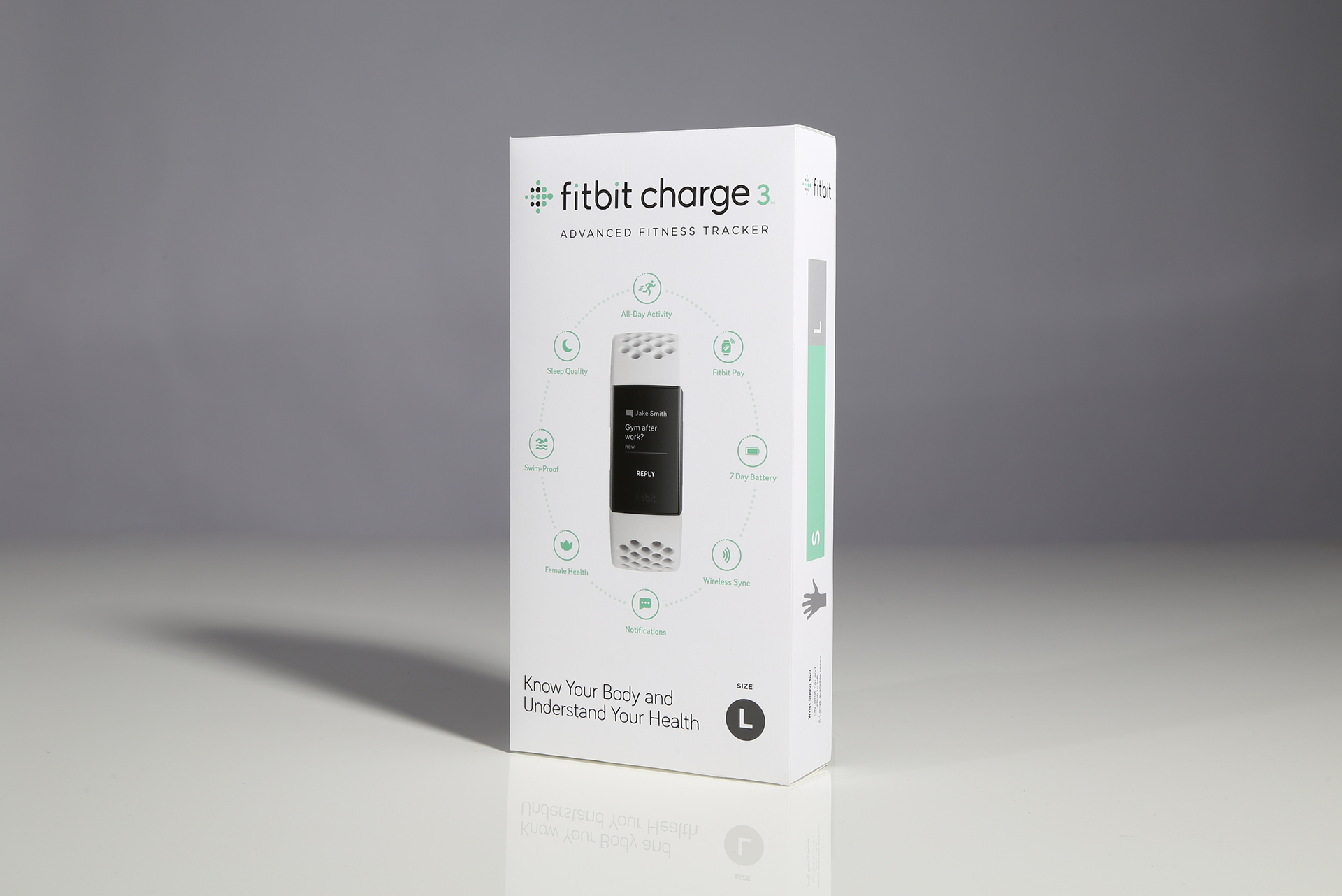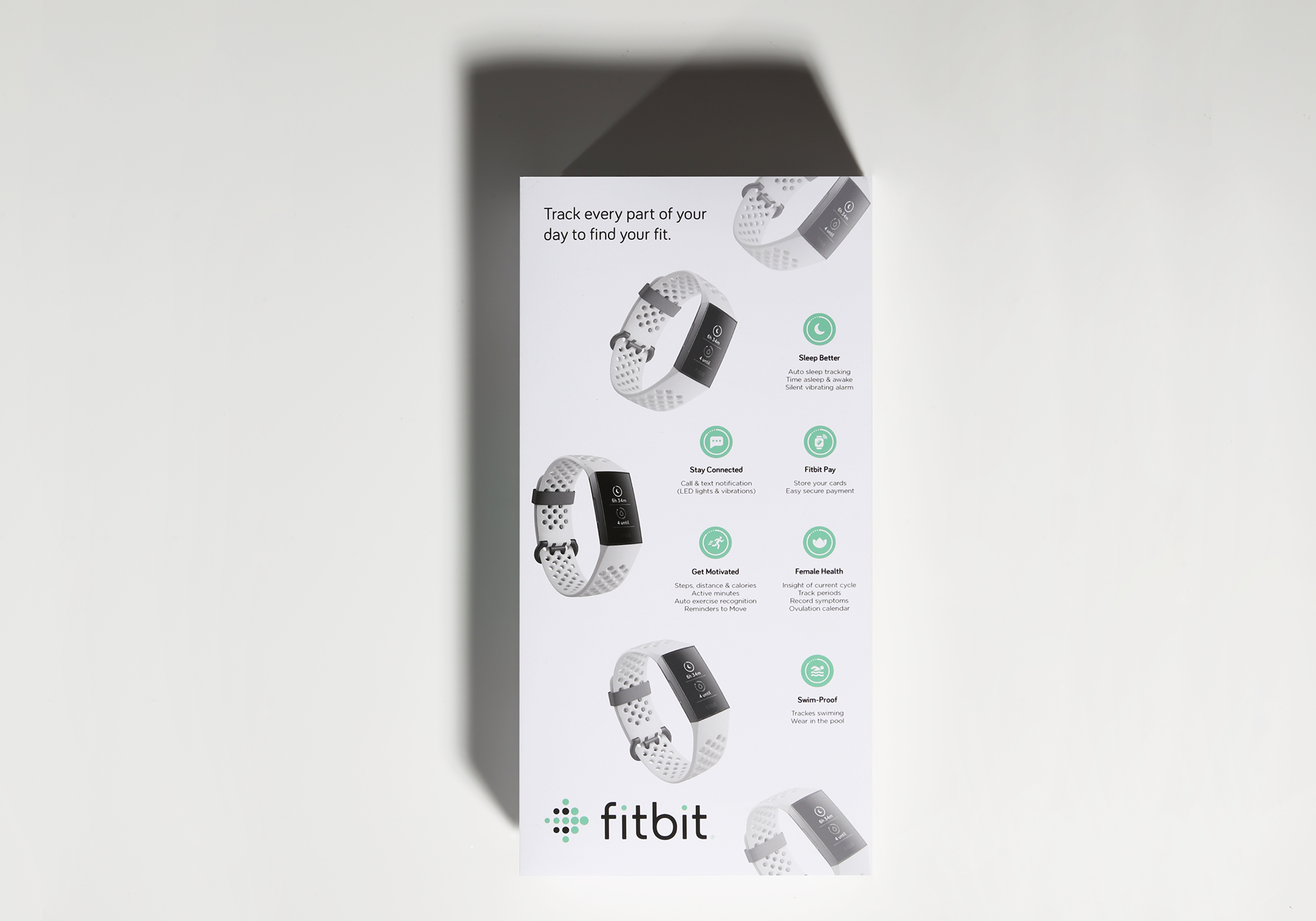 In retail stores like Best Buy or Target, Fitbit's products are usually locked in display case. Assistants usually do not open lock for customers until they decide to buy it, nor is there any model to interact with or try on. Customers get limited information from the counter.
To get a deeper insight of this problem, I conducted market research in a few Fitbit retail stores in NYC.
When there is no assistant nearby, customers are very patient waiting for assistants. While waiting, they watch the full commercial of the product, check information in detail for a long time, even when products are locked in display case.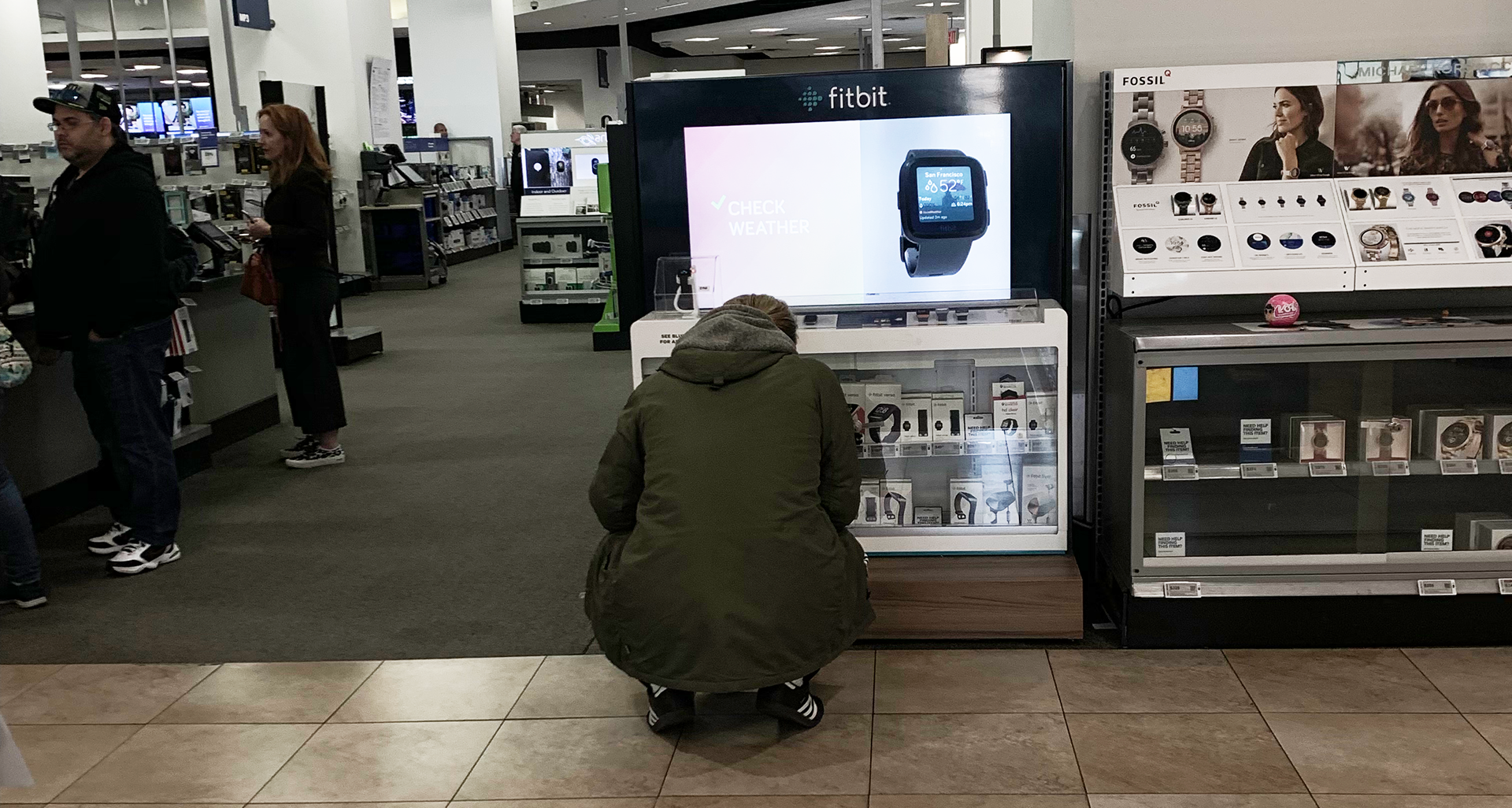 • New 
customers get little information from display case.
"I asked the assistant for help. She told me to google it on my phone"
"I was thinking if there's a booklet or something to compare with different models"
• 3 out of 4 interviewed new customers did research before they came to retail stores. They check the design, color band and size, and buy it quickly.
"I searched on google, browsed websites like tech reviews for about 2 hours"
•
4 out of 6 interviewed return customers went to stores to buy accessories
"My model is charge 2, the band broke after a year, but they don't sell the band any more"
•
All interviewed repeat customers care about their health and fitness. There are marathon runner, swimmer, one who cares about his feet fitness, one who cares about her heart rate, one who cares about her sleep quality and one who just recovered from a surgery.
• A
ssistants do not open locks for customers to try models due to 
concern about products' safety
"I wish there were models to play with, like Apple and Samsung" - A Customer
• 4 out of 5 interviewed assistants think there's enough information for customers, while all the interviewed new customers said they wish to get more information on the counter or from product packaging
• Assistants in retail store take care of many brands' products. They would not be at Fitbit's counter all the time. Therefore, it's crucial for the customers to get enough information from display case and packages.
•
Fitbit had been No.1 in market share before the third quarter of 2017. Now it's No.3, after Apple(No.1) and Xiaomi(No.2).
• Fitbit is one of the best seller in every retail store I visited according to retail assistants.
• Apple stores are all about interaction with models. Samsung and Garmin also display several models on their counters. In contrast, there is none or only one model to play with in Fitbit's display case.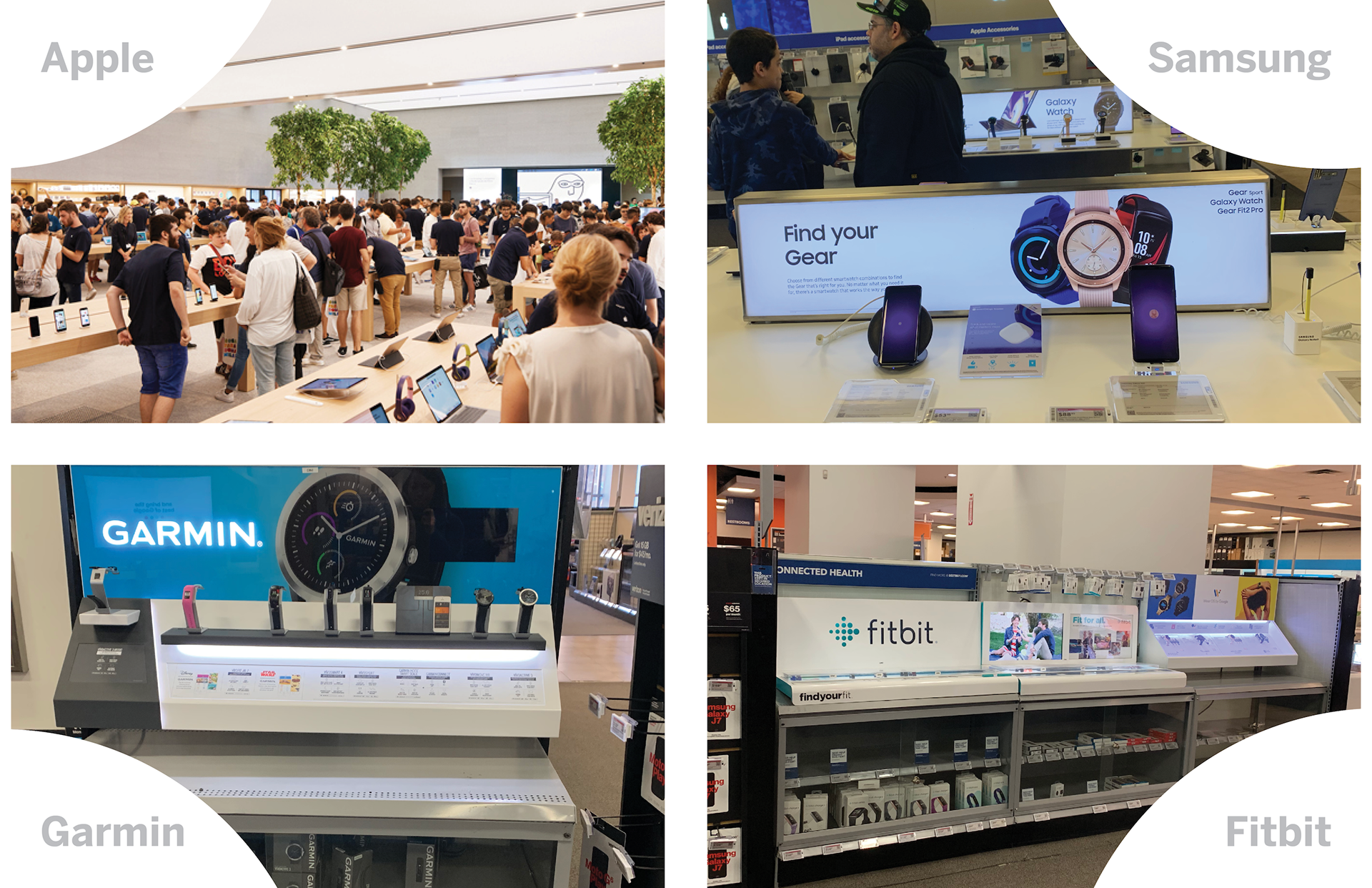 • Fitbit's display cases are not consistent, some of them have plenty information while others don't.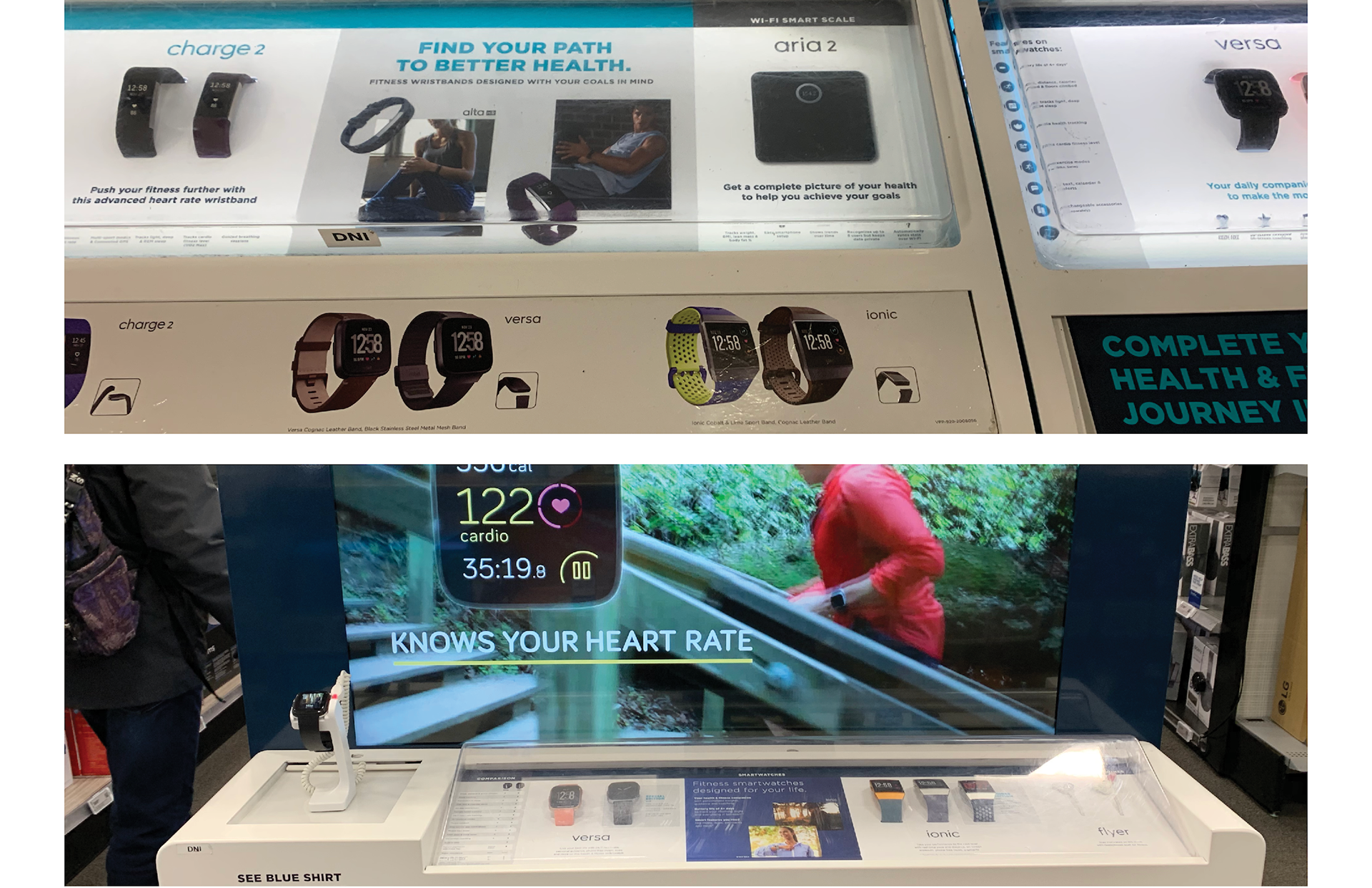 • Fitbit, together with its competitors in retail stores, share similar packaging.

Solution and Strategy Proposal
Given the fact that assistants may not be present all the time, utilizing all the space in display cases to convey information is vital and efficient:
• 
Add Interaction Models
  Add plenty models for customers to interact with
•
Customize Information Panel
  Redesign information for new customers and return customers respectively
•
Sell by the Front
  Distinguish package from competitors, even when products are locked in counter, they can still sell by the front
•
Optimize Store Location
  Sell in retails or kiosks inside or near hospitals, clinics, fitness centers or rehab centers
What's the story? Keyword in its logo: Tracking
I started from Fitbit's logo, translated the round dots in the logo to the concept of "Tracking", then related to the layout of circle. 
I also changed the logo's color from turquoise to green, to bring a sense of health.

Packaging Redesign
​​​​​​​  
This package accomplished 3 things:
•
Customers get its highlighted features at first glance, even when products are locked in counter
•
Green color brings a sense of health to customers
•
Tell Fitbit's own story of tracking health every day, and distinguish Fitbit from competitors
"Look at this! It's so pretty!"
"I definitely can access more information."
"The features are clear and well designed. I love it!"