Fleature is a used furniture trading platform that allows users to buy or sell multiple furniture in a short time, at the same time offer furniture moving, assembling/disassembling services.
Our team received feedback from 84 students and young city dwellers in NYC from survey and interview, and created business model from insights learnt from design research and competitive analysis. In the end I created a hi-fi app prototype and received favorable feedback in usability testing.
Huan Deng, Kate Ju, Mengtong Li, Shuang Liu, Fang Yuan
I led in design research. Refined UX/UI design and usability testing half a year later independently.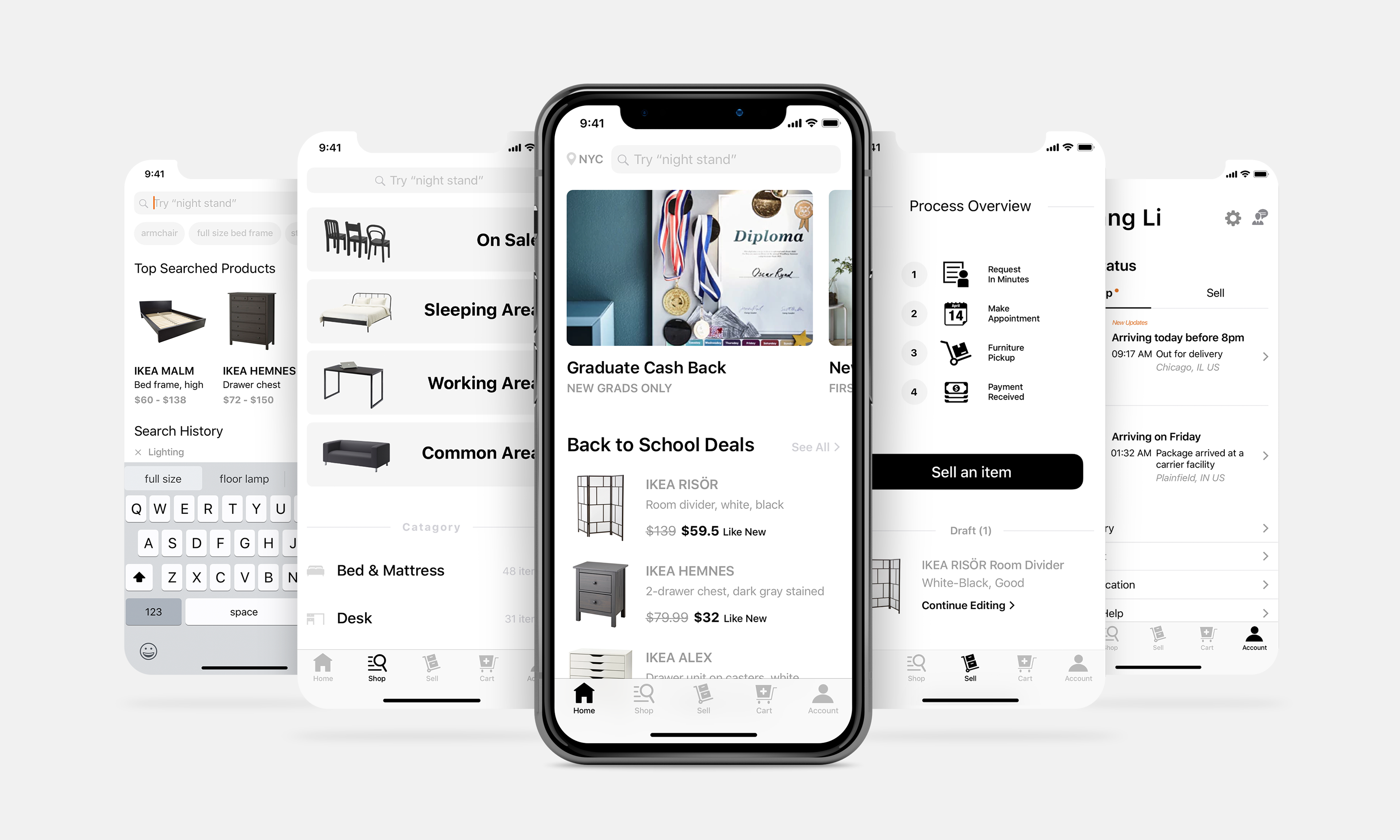 In 2018 summer I was preparing moving to NYC as I got admitted by School of Visual Arts. I witnessed how students graduated in May had a hard time reaching buyers for their moving sale; and I myself experienced a hard time seeking used furniture sellers before fall semester began in Early September.

Second hand furniture market is not liquid

​​​​​​​
I calculated the posts of 400 students and/or young professionals from Greater New York Area who wanted to buy or sell second hand furniture and concluded that the second hand furniture market is not liquid.
To understand the root cause, we conducted user researches in NYC.
Our Focus:

New York students and young city dwellers
There are about 2 million students and young city dwellers living in New York C. They are inclined to relocate, and to own their furniture for a short period of time.

1. Time and effort Consuming 
Buyer: 27.3% people spend more than 4 weeks to buy all they want due to limited choices
Seller: 33.3% people spend more than 4 weeks to sold all their furniture as they spend much time and efforts on ads creation, promotion and inquiries.
"It took me 6 hours in total to prepare ads to sell furniture"
"I replied inquiries during my work. It was distracting, but I didn't want to miss may chance to sell a small piece"
"I left my unsold bed frame at the disposal places in my apartment"
2. Moving, assembly and disassembly furniture is difficult
"I was exhausted after moving these large pieces all by myself"
"I'm so mad at assembling furniture, it was so hard for me"
3. Concerns about furniture quality
"The interface of Craigslist drives me crazy! The furniture looks old. I don't trust it"
4. Trade affected by personal schedule
"I feel upset when buyer canceled his order due to our schedules"
1. Online transaction is mainstream
72.7% mobile, 27.3% desktop
2. Current used furniture trading platform can not cover customers' pain points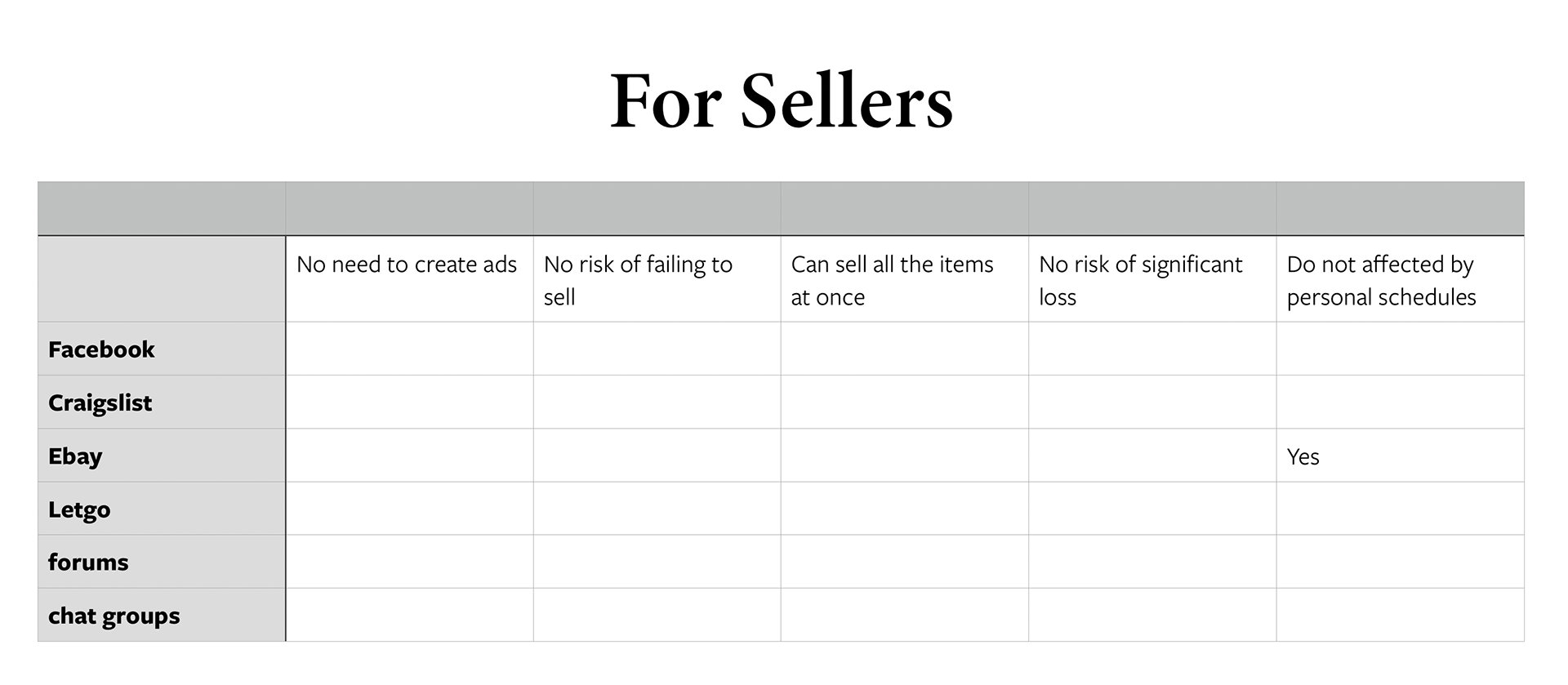 Opportunity: Second Hand Furniture Is a Huge Market
There are about

2 million

students and young city dwellers living in New York City.
52.4% people bought used furniture in last 12 month.
40.1% people sold used furniture in last 12 month.
54.6% buyers bought more than $200 in last 12 month.
Willing to buy: Yes(71.7%)
Willing to sell: Yes(92.2%)
Fleature, second hand furniture trading platform.
Based on findings from research, we tried to create a business model that can offer services that current trading platforms do not provide,  and at the same time it can make profit and keep the business going.
We were inspired by moving companies, online stores and furniture companies. After ideation, our team settled down to a solution and built a hypothetical business model that acts as middleman between buyers and sellers.
Fleature is a second hand furniture trading platform that allows users to buy and sell used furniture, and offers furniture assembly/disassembly/delivery/pickup services.
How does Fleature work? (Business Model Design)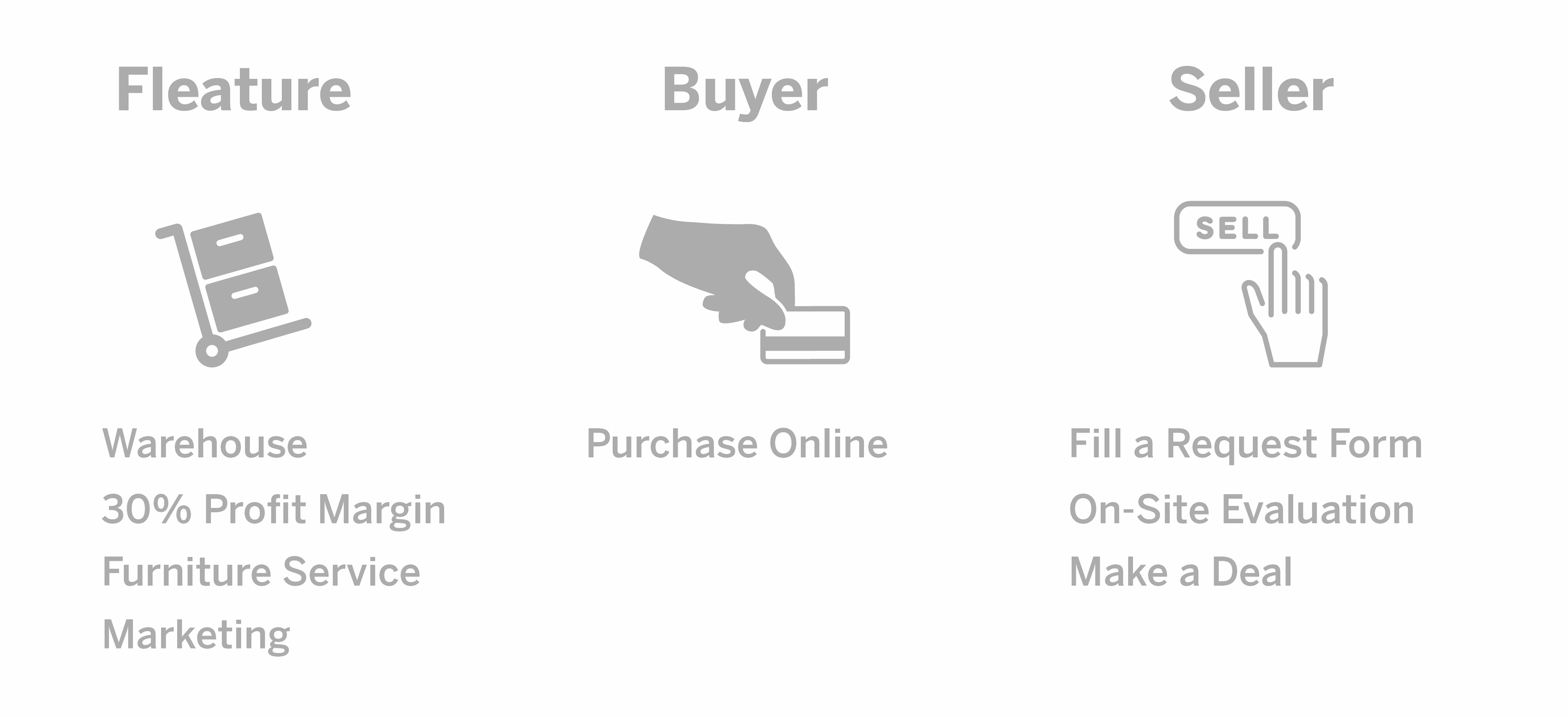 1. Rent warehouse in suburbs;
2. Categorized used furniture into 3 classes: Like New, Very Good, Good. 
2. 30% of profit margin: for like new furniture, Fleature buys it for 30% of original price or less, and sells it for 60% of original price;
3. Provide furniture moving, assembly and disassembly service;
4. One-on-one customer service in Fleature's online platform;
5. Offer products such as "shop whole room set" which mainly target customers who have roommates;
6. Cooperate with universities like NYU or Columbia University to launch campaigns or promotions.
1. Fill in a request form, include information about furnitures they want to sell;
2. Once finished and qualified, Fleature contacts seller to make an appointment for an on-site evaluation;
3. Once Fleature and seller agree on a deal on certain price, Fleature disassembles furniture and moves them out of seller' place;
4. Seller's request to sell can only be approved when furniture's value is above $100;
5. On-site moving fee: $20 with disassembling service, plus surcharge of $2 per minute after 15 minutes.
1. Choose and buy furnitures in Fleature's online platform;
2. Ship to address, on-site moving fee: $20 with disassembling service, plus surcharge of $2 per minute after 15 minutes.

1. Acquire Information Easily
• Multiple Product Categories
• Optimize Information Presentation
• Enhance Searching Functionality
• Pre-Filled Default Choices
• Sliding rather than Typing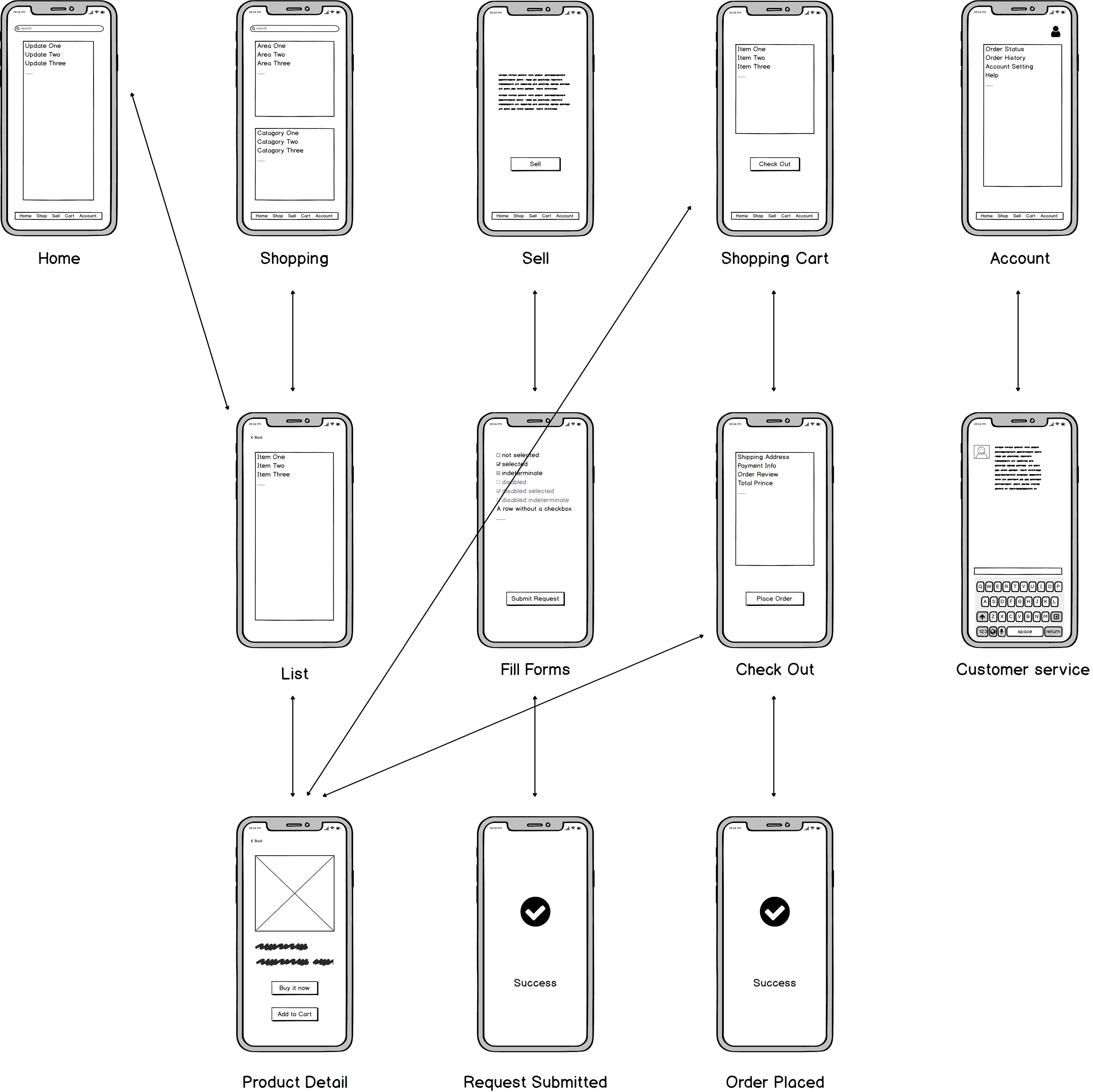 Usability Testing and Iteration
I did 3 rounds of usability testing with students and young professionals. 
One thing I found was that user expected to see order status easily, so i put it on the account page's forefront.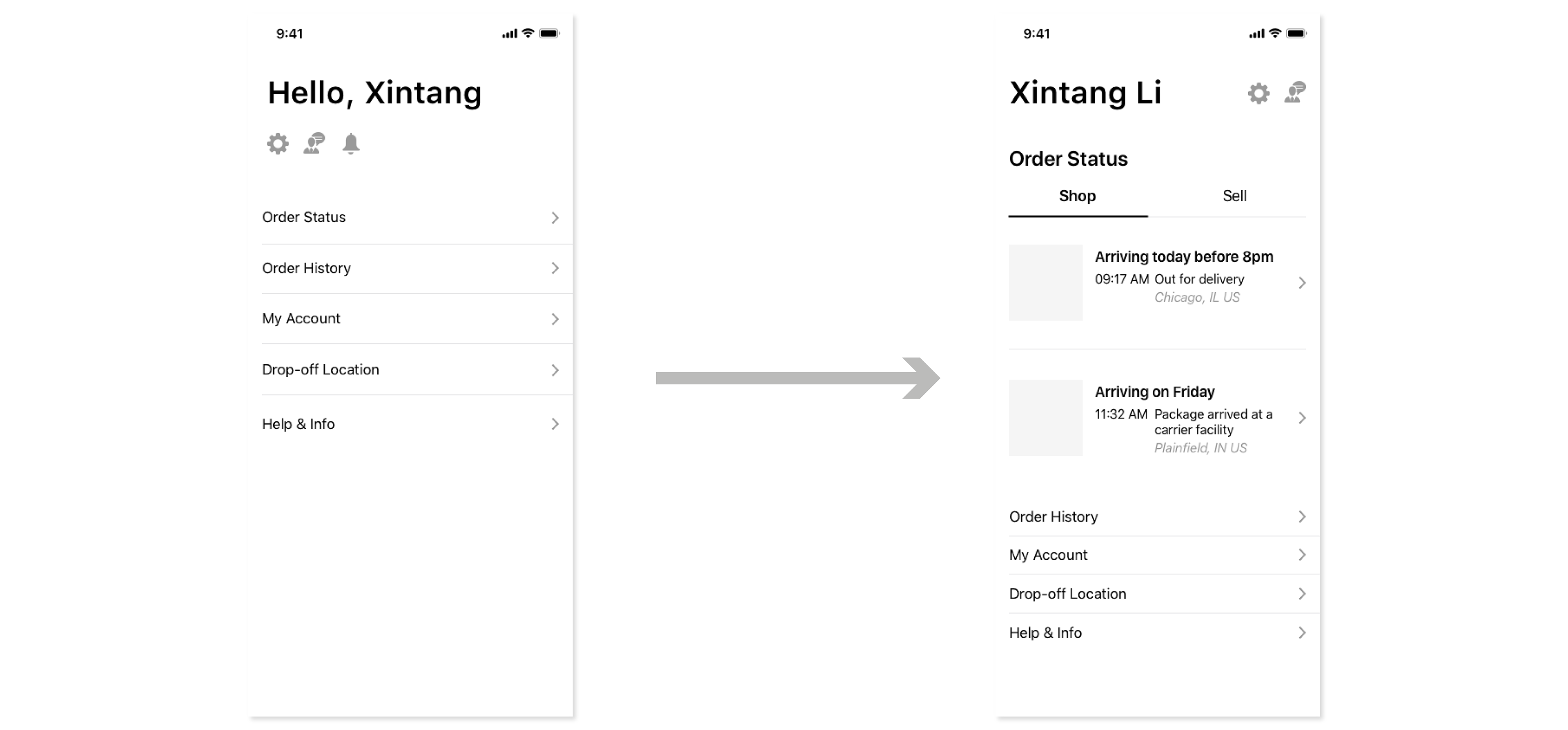 Another thing is the brand name list and express selling options are confusing, 3 out of 5 people didn't get it, so i deleted them.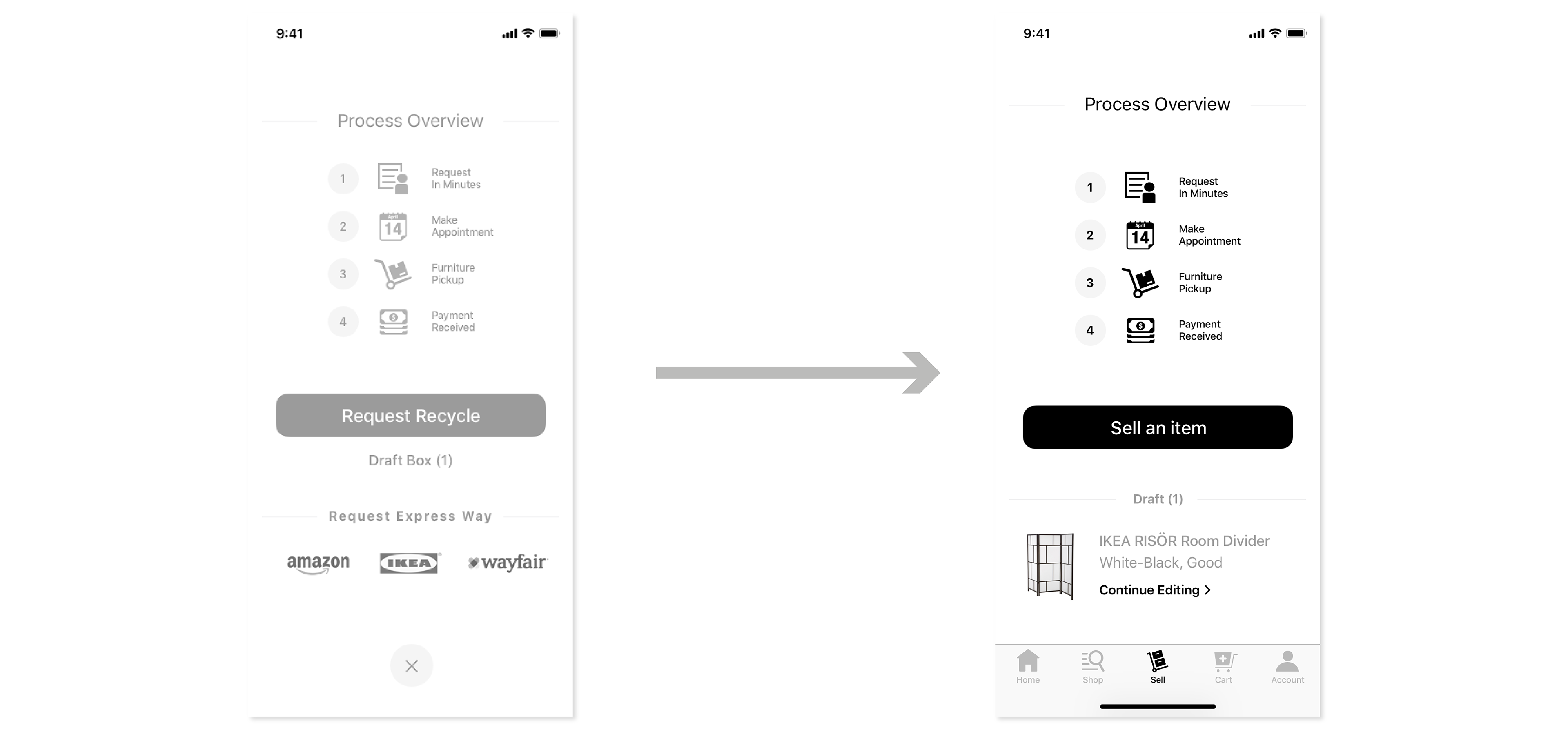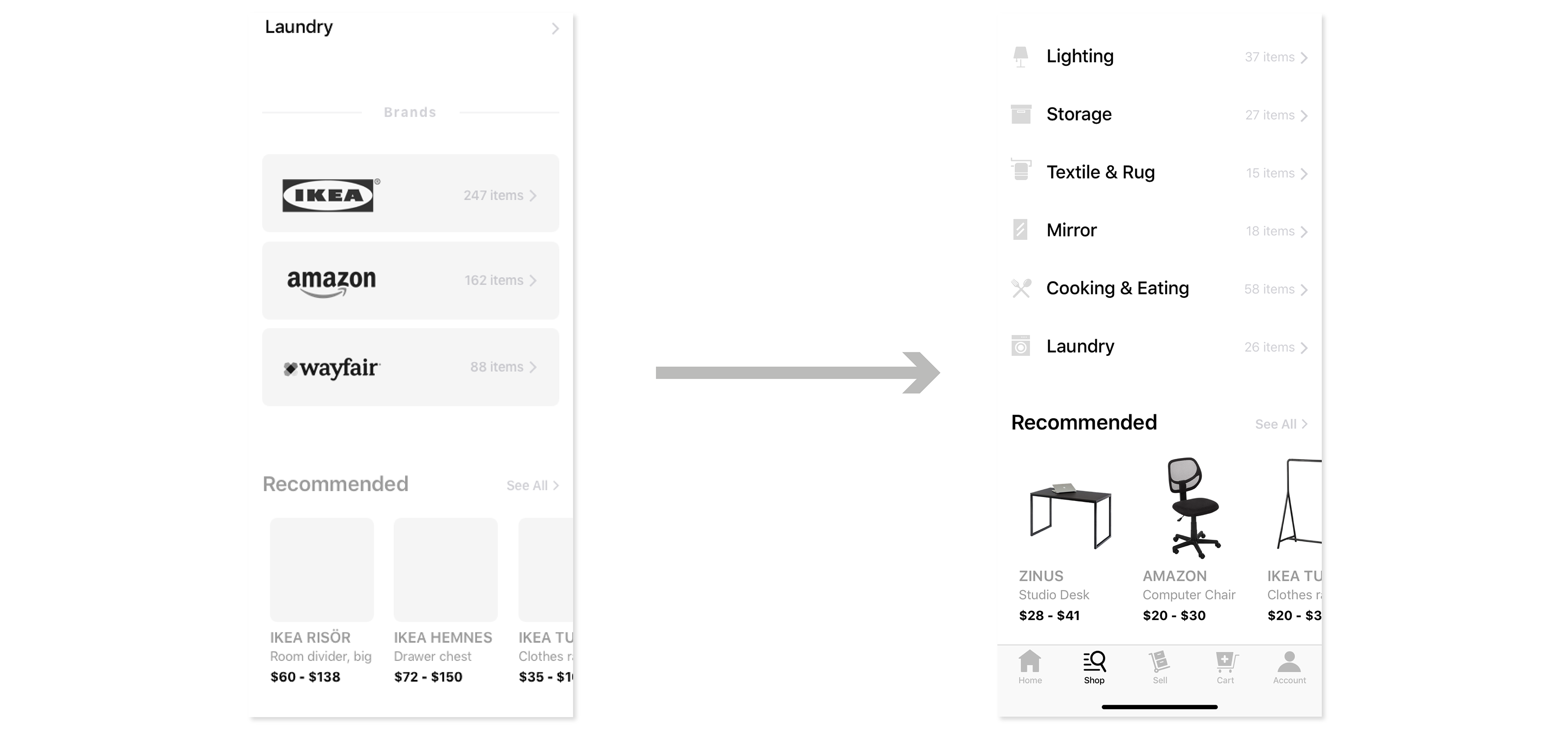 Hi-Fi prototype tests were done on 5 young city dwellers, from college sophomore student to investment bank strategist. All of them thought this app is easy to use, and they were willing to use it to trade used furniture. Below are the final design and their quotes on corresponding page.